successfully added to enquiries!
Call + 27 (0) 11 233 2300

+ 27 (0) 11 233 2300
Monday - Thursday: 09h00 - 17h00
Friday: 09h00 - 16h30

Enquiry Form
Holiday Factory brochures are worth the read
Some great travel tips and unknown gems from the experts

Why Holiday Factory?

Excellent Supplier Relationships.
Flexibility.
Availability.
And the best deals for you.

Hands-on Concierge Service
Tried and tested hotels.
Real advice.
Tailor-made packages to suit your needs.

Award-winning Tour operator
Awarded by the industry.
Trusted by fellow travellers.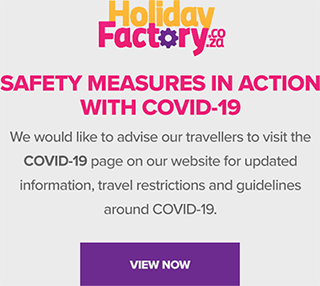 ⤬